Photos
Click on the pictures for more...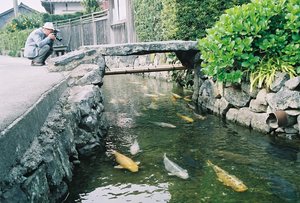 Hagi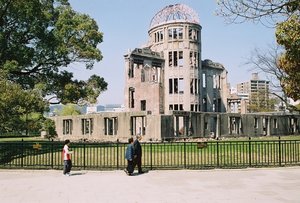 Hiroshima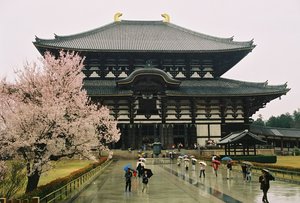 Nara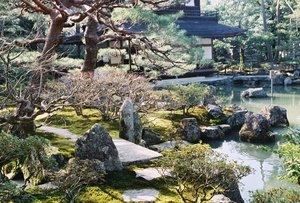 Kyoto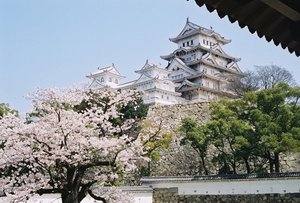 Himeji
(Technical details: I took photos these with my Canon Rebel SLR using a 28-105/3.5-4.5 lens and 200 and 400 print film. The negatives were scanned to CD when they were developed.)
I spent 10 days in Japan over the end of March and beginning of April, 2004. I flew into Fukuoka then spent the weekend with my sister, Shirley-Anne, who lives in the very picturesque little city of Hagi, near the western tip of Japan's main Honshu Island. (Although it's a relatively sleepy place now, Hagi is important historically as the place where the Meiji Restoration was kick-started, the process that very rapidly transformed Japan from a feudal to an industrial nation.)
Over the next four days I visited Hiroshima, Osaka, Nara, Kyoto and Himeji with my girlfriend. She then returned to Korea and I stayed another weekend with my sister, who was putting on her first art show in Japan, and her friends in Hagi (including my cousin Pat and his family) before flying back home to Vancouver.
As you can see from the photos, we were in Japan at the height of the Japanese cherry blossom season, so our timing was very fortunate. Cherry blossom season is a very big deal in Japan, and stories on where the blossoms are best will often lead the newscasts in the spring. The weather was very pleasant, mostly sunny and highs in the mid-teens celcius, although it did get cool at night. Probably the ideal time of year to go to Japan, although of course the Japanese themselves are also keen tourists in their own country, so there were big crowds at the more popular attractions.
Transportation
We bought the Sanyo Area Pass from West Japan Rail which gave us unlimited access to Japan's justly famous
shinkansen
(i.e., "bullet train"). It's an ideal way to travel! The shinkansens are fast (up to 300 km/h), quiet, always (for us) on time, and comfortable. The pass is also good for slower "local" trains and JR buses between train stations. At US $300 for the 8 day pass (only available to foreign tourists) it's a good deal compared to buying the train tickets individually.
Hostels
While travelling we stayed one night in the brand-new Shin Osaka HI hostel, just a ten minute walk from the shinkansen station. It was easily the most impressive hostel I've ever stayed in. Taking up the top two floors of an ultra-modern ten storey building the hostel had good views of the Osaka skyline and was very spacious and well-appointed. Highly recommended!
We stayed two nights in Kyoto at the Tour Club hostel, voted the best hostel in Kyoto by Lonely Planet. Sure it was nice enough (and conveniently close to the train station) but frankly I was a bit disappointed after the hostel in Osaka...
Incidentally, almost all hostels in Japan seem to have a very strict curfew, typically 11 p.m. Basically if you're not back at the hostel by then, you're not getting in until it opens up the next morning. On the plus side it means lights are out before midnight so you can get a good night's sleep if you need it, but obviously if you want to check out the local nightlife it can be limiting.
Costs
Japan is expensive, but if you plan ahead the expenses can be managed. Our 8 day rail pass cost US $300. (Note that that is 8 consecutive days.) We figured that we could get by on US $60/day for basic food (e.g., hostel breakfast, Japanese fast-food lunch, a mid-range restaurant meal for supper, and coffee breaks) and hostel accommodation (US $25-30/night). Of course the sky is the limit for souvenirs... It's also a good idea to bring small gifts with you that are representative of your home country (e.g., maple syrup is a good standby for Canadians ;) to exchange with any Japanese people you might stay with or invite you for a meal.
Language
A popular (mis)conception is that because Japan is so advanced, a lot of people there must speak good English, but this, frankly, is not the case. So it was a big help for me that my sister speaks Japanese (and that some of her Japanese friends speak pretty good English). At least train stations signs are written in Romanji (i.e., the Roman alphabet) but figuring out when the train leaves might be a problem as the timetables are all in Japanese. Even if the waitresses don't speak any English, restaurants (especially fast-food imports like McDonalds) will often have English menus, and Japanese restaurants will usually have plastic replicas of their dishes outside that you can point to, so language isn't an insurmountable barrier.