Dar es Salaam was the first stop on my round-the-world trip. It was quite a shock stepping into the sticky coastal African heat from the plane that had carried me from cold Toronto, via London, but I got used to it soon enough! Dar es Salaam itself wasn't that interesting to me (like any other city in the third world that's grown too fast, it's none too pretty) so I opted to spend a few days on the more richly historic island of Zanzibar, 50 km NE of Dar.
Waterfront
Church
This Anglican church, an oasis of Christianity in overwhelmingly Muslim Zanzibar, was built of coral (obviously in a less environmentally sensitive age...) on top of the site of the slave market. The altar in the church is said to be right above where the whipping post was. Zanzibar was the center of the slave trade on Africa's east coast.
Also interesting was a crucifix inside the church ostensibly made from the wood of the tree under which David Livingstone's heart was buried. He died in what is now Zambia (my parents regularly pass the turn-off to the site of his death), hundreds of kilometers from Zanzibar. After cutting out his heart and burying it under the tree (because "it belonged to Africa", or so the story goes) his faithful servants carried his body to Zanzibar where it was shipped home to England and entombed in Westminster Abbey, which I've also seen. The contrast between the place of Livingstone's death--a poorly marked sign on a tree several kilometers down a dirt track, off a little used road in an back provice in one of Africa's less important countries--and the place of his burial, Westminster Abbey, heart of the then British Empire, is wonderfully ironic.
| | |
| --- | --- |
| A reminder of Zanzibar's sometimes dark past. | |
| | |
Puppies!
Here's a bit of gratuitous cuteness, plus it was great way to try out my zoom lens...

Apparently there were no bones around, so these guys resorted to chewing on their hapless sibling.
Architecture
The centuries old stone buildings in Stone Town with the narrow alley-ways, and discreet doors opening onto enclosed courtyards made me wonder if I wasn't in Egypt or back in Pakistan instead of Africa.
Outside of historic Stone Town, though, the architecture was a mix of typical pre- and post-colonial African buildings, with some misplaced low-rise apartment buildings (perhaps a vestige of newly independent Tanzania's flirtation with Socialism?) thrown in for variety.
| | | |
| --- | --- | --- |
| | | |
| How did they get a building permit for that?! | | |
Spy vs. Spy
Palace and Fort
The white palace has the dubious distinction of being bombarded by the British in the shortest war in history.
I spent a couple of hours pleasantly enough wandering around the fort. The cashier gave me a couple of post cards in lieu of change. There seemed to be a perpetual shortage of small bills, and it wasn't as if I was paying with $100 bills. Anyway, it didn't seem to impede commerce too much: one shopkeeper who also didn't have change for a drink I bought let me pay him for it at my leisure a day or two later.
Sugar Cane Boys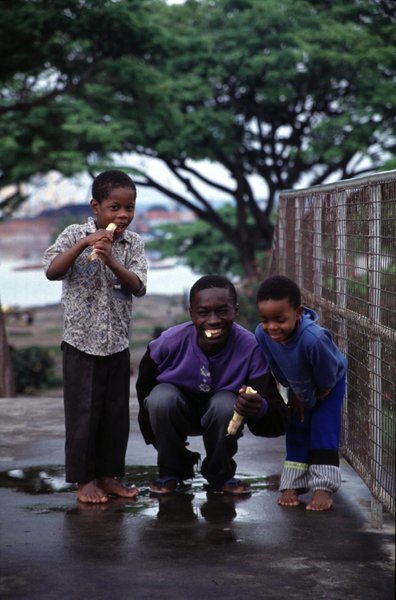 Doors
These beautifully carved wooden doors, remnants of Zanzibar's Arabic past, are found throughout Stone Town.
The Northern Beaches
Alas, I was only able to spend a day here. Certainly I could have afforded to stay longer at only US$15/night!

Note the outrigger canoes in some of the pictures. They're made by the local fishermen from the trunk of a tree using crude hand tools.
Wait for me!
Train to Zambia