Zimbabwe is a beautiful country, blessed with rich farmland, world-class game reserves and breathtaking views in its eastern highlands, which makes its recent political upheavals all the more troubling.
Regardless, I enjoyed a short holiday in Zimbabwe with Mom and Dad and Chrissie before I took the bus down to Johannesburg and Chrissie flew back to boarding school in Kenya.
Elephant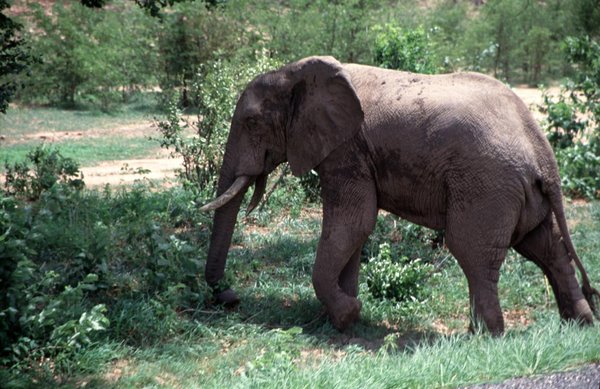 Do elephants have the right of way?
Flowers
Chinhoyi Caves
The water in this pool is at least 350 ft (135 m) deep. At one time it was used by local chiefs who executed people by hurling them off the edge into the water far below...
Technical note: If some of these pictures seem a little blurry, it's because they are. The light was fading, I didn't have a tripod and I was using relatively slow film (ISO 100), so most of these were shot handheld at around 1/20th of a second. I was surprised that they turned out at all and ecstatic that they turned out as well as they did.
Rocks
I know Chrissie makes a cute model, but what you want to notice are the rock formations in the background.
The Village Inn
The last time I stayed in this hotel was twenty years ago, but I still had memories of it. Does that give away my age?
| | |
| --- | --- |
| I must have said something funny! | |
World's View, Nyanga

For a sense of perspective, notice that Chrissie is sitting on the ground in the middle-left.

Life on the edge.

The happy couple.
I'm proud of this shot.