Date: April 21, 2000
Subject: Mountain man
Hello again,
This will be the last of my letters from the road. Thanks to all of you who have read them and responded. I should be seeing many of you before too long as I'll be flying back to Toronto on Monday. This letter is probably later than some of you had expected since I naively thought my travels here in Canada's west (I'm writing this from Calgary) would only be a minor addendum to my NZ account. Live and learn.
I last wrote you en route from Auckland to Wellington. I spent a couple more days than I had planned in Wellington waiting for the ferry to the South Island, but it was time well spent since, despite being the home of NZ's federal government, Wellington is an interesting city. Apart from being the political center of the country, it is also a thriving business and cultural center. Set around a harbour and ringed by steep hills I got lots of exercise walking around and up and down the city. The ferry ride down to the south island was scenic as we left Wellington's harbour and crossed the windy Cook Strait (seems Cap'n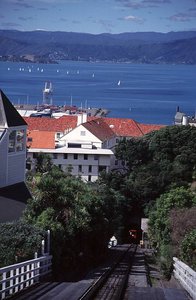 Cook got around: there's even a statue of him in Victoria, BC) and headed through the winding waterways of the Marlborough Sounds at the top of the South Island. (Joke: Australia is NZ's West Island.) For part of the way dolphins kept the ferry company. While in Welliington I had bought a pass with a company called "Kiwi Experience", essentially a tour bus for backpackers. According to Lonely Planet, "Kiwi Experience has a reputation for a party atmosphere with socialising based around the pub." My research bore this out. I jammed a lot into my two week trip around the South Island, so I hope that the language purists and English majors amongst you will forgive me if I use point instead of narrative form. We did a counter-clockwise loop of the island following the coast most of the way and going as far south as Queenstown, although I did a separate side-trip to Dunedin, on the south-east coast, to visit a classmate from boarding school in Pakistan. Here are the highlights:
doing a half-day kayak in Abel Tasman National Park but tame stuff for someone who has survived epic canoe voyages in Canada's wilderness (Historical aside: Dutch explorer Abel Tasman is credited as being the first European with discovering New Zealand, from which it gets the name he gave it, "Niuew Zeeland". He never actually set foot on NZ, however, since an unfortuate misunderstanding at "his only landing attempt resulted in several of his crew being killed and eaten" by the Maori. It wasn't until a hundred and twenty-seven years later in 1769 that James Cook re-discovered NZ for the British Empire.)
taking a quick look at distant seals that looked as bedraggled as I felt on a typically West "Wet" Coast rainy day, and sprinting around the Pancake Rocks to avoid getting waterlogged and miss the bus. I saw them, though, which is more than many of my fellow passengers did (but they stayed warm and dry).
winning over NZ$30 (~C$25) in "Bug Bingo" since my square caught a bumble-bee. I felt bad about the ill gotten gains, though, so bought pizza for the bus.
"Bushman's Lodge"--tbe name says it all: try to remember what it felt like to be in grade five and pet a live possum, be astounded at the semi-tame "wild pig", be grossed out at massive (+3 feet) eels, try your hand at knife throwing and archery and see if you can hit the driver's position in the bus cut-out with a paintgun. Unfortunately my American seat-mate at the time was less than impressed and caught the next bus down to Queenstown so she could party. (Interesting factoid: NZ now has more possums than sheep. Famous for its fifty million or so sheep, less well known are the possums that were introduced from Australia for fur. Since the European demand for fun plummeted in the eighties, however, the possum population has exploded to between seventy and ninety million with dire results for NZ's forests and native birds. The government keeps coming up with new and interesting ways to exterminate them. This is similar to the weasels that were introduced to control the also introduced rabbits but spend more time decimating the endemic bird species. On a positive note, NZ still has no snakes.)
panning for gold with a couple of guys that are NZ's answer to the Appalacian hillbilly. They'd taken over the claim that had been worked for several decades by the semi mythical "ol' George" and were "restoring", for lack of a better word, the shack that he had lived in. My pan had three or four dollars worth of gold. Ask me to see it. Lots of fun.
taking a guided walk on the Franz Joseph glacier, one of the world's fastest moving glaciers. Really it's just a frozen river of dirty ice.
Taking pictures of Mounts Cook and Tasman (the highest and second highest mountains in NZ, respectively) reflected in Lake Matheson on a rare cloudless day
riding a mountain bike down from just over the top of the Haast Pass on another perfect, warm, sunny afternoon (remember that March in NZ is like September in Canada) through a valley surrounded by snow frosted mountains and meadows that marched down to the river winding through the bottom of the valley. It doesn't get any better than that.
watching bungy-jumping in and around Queenstown, the self-proclaimed "Adventure Capital of the World". Unfortunately bungy-jumping was beyond my budget so I lent moral support and looked after the contents of my fellow passengers' pockets as they hurled themselves into the abyss. (At one point I had in my possession no less than four wallets and three cameras and wondered idly where the nearest pawn shop was.) I saw lots of jumps (and endless video replays) of jumps from the Kawarau Suspension Bridge, at 43m the world's oldest commercial bungy site where you can optionally be dipped into the river at the bottom of the jump.
riding the gondola to the top of the mountain above Queenstown, riding the luge at the top and watching paragliders run down the slope and take off into thin air every few minutes
Queenstown's spectacular setting: situated next to a lake surrounded by mountains on all sides including the "Spectaculars"--and they are
riding a horse on a sheep and deer farm just outside of Queenstown. It happened to be mating season so we were seranaded by the love songs of lonely stags.
visiting a friend from Pakistan days in Dunedin and taking a spin on his 1100 cc sport motorcycle (it was probably about then that I asked Ted not to sell my bike...) We visited the seal colony and got within touching distance of the pups, roaming around like puppy dogs. One of them was playing soccer by himself with a pebble. Inevitably that was the one occasion that I didn't have my camera on me. We attempted to run up Baldwin Street, "listed in the Guinness Book of Records as the steepest street in the world with a gradient of 1 in 1.266" and got about two thirds of the way up. Apparently Dunedin was planned by an architect who never left Scotland and whose grasp of topography was limited.
the desert scenery of the dry interior on the way to Christchurch; lakes dyed bright blue and aqua-marine by the glacial sediment
visiting another boarding school classmate in Christchurch, the most English of NZ's cities, walking by the banks of the Avon river, climbing up the spire of the Cathedral (I was tempted to buy naming rights to one of the steps but again my budget didn't permit.)
seeing yet more seals in Kaikoura, but this time they were mostly bad-tempered bachelors who couldn't get a date
spotting a pod of orcas (aka "killer whales") en route to swimming/snorkelling with dolphins in chilly water at 6:30 a.m. An amazing experience: the wild dusky dolphins ("lagenorhynchus obscurus") swam within inches of us snorkellers and leaped out of the water, sometimes doing complete somersaults.
Swimming with the dolphins was a great way to finish up my South Island trip. I'd recommend it as the best all-round backpacker's destination of my trip. From there it was back up to the North Island and a quick few days up the east and north coasts back to Auckland and the flight back to North America. Some quick highlights of that trip:
seeing yet another boarding school contact in Wellington and being treated to genuine Pakistani food
taking the train to Napier through spectacular moutain scenery. If you want to see Art Deco architecture, Napier is the place to go since it was virtually destroyed in a 1931 earthquake and hurredly rebuilt. Even the hostel I stayed in was an Art Deco building.
staying a night in heavily Maori Gisbourne, the first city in the world to see the dawn
more great mountain and coastal scenery on the northern coast to Wellington, with a brief stop in Rotorua, famous for its "bubbling mud pools, gurgling hot springs, gushing geysers and evil smells" with an ever-present whiff of sulphur in the air. Then it was on to Auckland and the airport and another night of lost sleep on the flight to LA.
The flight up from LA to Vancouver was fantastic on a virtually cloudless day (until we reached Seattle, that is--no surprise really) so, having a window seat, I had great views of the snow capped Rockies. As usual, Canadian immigration gave me more trouble than any other country I've been to. Given the number of recent dope busts here lately I'd have thought that they'd be more concerned with drugs leaving BC than coming in. After that somewhat lukewarm welcome back to Canada, and in an effort to combat the initial "What country am I in again?" confusion, I went to Swiss Chalet for supper and washed it down with a coffee from Tim Horton's. Perhaps I could have chosen healthier fare, but none more quintessentially Canadian. As for Vancouver? Sure the ring of snow covered mountains surrounding the city is pretty but in my opinion they can't compete with the looming immediacy of Cape Town's Table Mountain. Anyway, I spent the better part of a week in Vancouver (and enjoyed Heino Promm's fantastic cooking), then several days on Vancouver Island, then since last Saturday I've been making my way overland eastwards, arriving here in Calgary from Banff yesterday. Here's a short summary of my goings on in Western Canada:
In Vancouver, I walked all the way around Stanley Park being overtaken by rollerbladers and cyclists. It's a big park. I probably would have been better off renting a bicycle. From the top of Grouse Moutain (the cable-car ride is a hefty $17.50) I got a great view of Vancouver and resolved to learn how to ski and snowboard.
Victoria is probably best summed up by a billboard I saw outside a hotel: "Night is for sleeping, Day is for resting". It's not exactly a hopping place, and hence appropriately the seat of the provincial government. Some have described it as a "walking cemetary", or as a German guy I met in Banff said, most of the inhabitants walk around "with sand in their pockets". Still, all the seniors who retire in Victoria are onto something since it's a very pleasant, walkable city. I rented a bicycle (at $19/day very good value) and rode around the city and along the scenic coastal drives. From Victoria I went on a scenic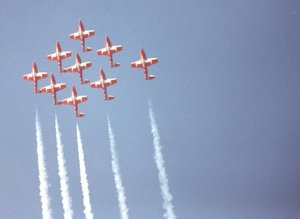 taxpayer-subsidized Via train ride halfway up the island to Courtenay where I stayed two nights with the couple, and their now disconcertingly older children, who were my houseparents in grade nine (and Ted's in grade seven). Apart from catching up with them and enjoying the antics of their nine three-month old German Shepherd pups, the highlight of Courtenay was undoubtedly watching--for free--a forty minute training session put on by the Canadian airforce's Snowbirds. It was a quite a show! The weather and setting were perfect: a warm, virtually cloudless day with the strait in front of us and snow capped mountains behind and dancing jets overhead and all around.
After taking the ferry from Nanaimo to Horse Shoe Bay and one more night in Vancouver I got on the bus for Hope, a small town a couple of hours east of Vancouver. Almost completely surrounded by mountains, Hope is the "Gateway to the Fraser" since it is at Hope that the Fraser River turns west to the sea. My hosts in
Hope were the parents of a classmate of mine in Pakistan and he was Ted's grade six teacher. Hope is famous (?) for its carvings and its tunnels, part of a now abandoned railway line. If ever you find yourself in Hope, be sure to visit the tunnels since they're bored through the sides of a gorge down which a raging river runs. The combination makes for some gorgeous scenery.
After a night in Kelowna ("Canada's California" since it's relatively dry and mild and has lots of lakes) I arrived in Banff on Monday. Finally a scenic competitor worthy of Cape Town! Banff is everything they say it is, except at this time of year it's not too crowded. It's surrounded by steep, fir clad, snow capped, rock tipped mountains and a river, the Bow, runs through it. The quaint town itself is no doubt a shopper's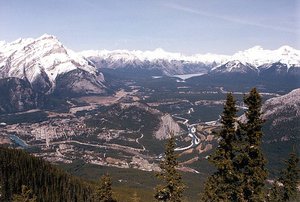 paradise with upscale boutiques and decadent chocolate stores galore. Being by now more than ever interested in free activities I hiked up Sulphur Mountain, which overlooks the famous Banff Springs Hotel, with my German hostel roommate. It took us a good two hours. For our efforts we got a free gondola ride down to the bottom of mountain where we soaked sore muscles in the 39 degree C hot springs.
Here in Calgary I'm staying with friends of a friend of mine from Ottawa. Yesterday afternoon I was given a tour of the University of Calgary and the downtown area. Not much else to say about Calgary really... The weather is nice though: 18 degrees C and sunny. I notice that you folks in Toronto are enjoying overcast skies at 8 degrees today. I'll see if I can arrange to bring this weather with me on Monday.
Well, that about wraps up my round-the-world trip. Thanks to all kept in touch while I was away and prayed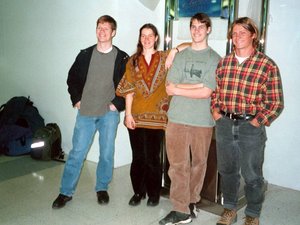 for safe travels. Obviously my travelogues can scarcely do justice to all the things that I saw so I'm planning on putting up my better pictures on the Web and will send you all the location once they're up.
Over and out.
John